I love making gifts for friends and I came up with these tonight. It's a peek into what you will be able to do when ordering starts in January 2017 OR if you are a Stampin' Up! Demonstrator–you can start now. If you'd like to become a Demonstrator, email me at ca@fabric-paper-scissors.com and we can chat. It's so much fun and you can justify your shopping because there is a 20% discount. 😉
Back to the project. The ceramic bisque tiles are from Blick, I ordered them online and they were shipped in perfect shape.  Here are a few quick photos.
I stamped in Archival Black Ink and put the color on the flower using alcohol markers. I will spray the coasters with matte sealer and attach a cork bottom. The stamp set for the sentiment here is from the Sending Thoughts Stamp Set in the new Occasions Catalog which will be available January 4, 2017. The beautiful flower is from the You've Got This stamp set in the annual catalog (page 50).
This one is made using the gorgeous NEW stamp set called Beautiful You and it will be available January 4, 2017. I stamped using Archival Black and colored the dress and hat with alcohol markers.
I absolutely love the sentiments on these coasters, especially this one and it's also from the Beautiful You stamp set. I used the same color family in the three coasters since they will be a gift together.
Please let me what you think and leave a comment telling me which one of these coasters is your favorite? There will be a video coming up on my YouTube channel.
Do you have a copy of the new Occasions Catalog? If you don't have a Demonstrator that you work with, request a copy here ca@fabric-paper-scissors.com
Stamp Set Sending Thoughts 142965 $20.00 – Available January 4th, 2017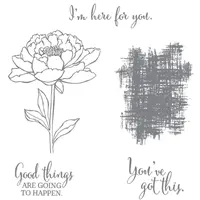 Price: $28.00 Available Jan 4/17